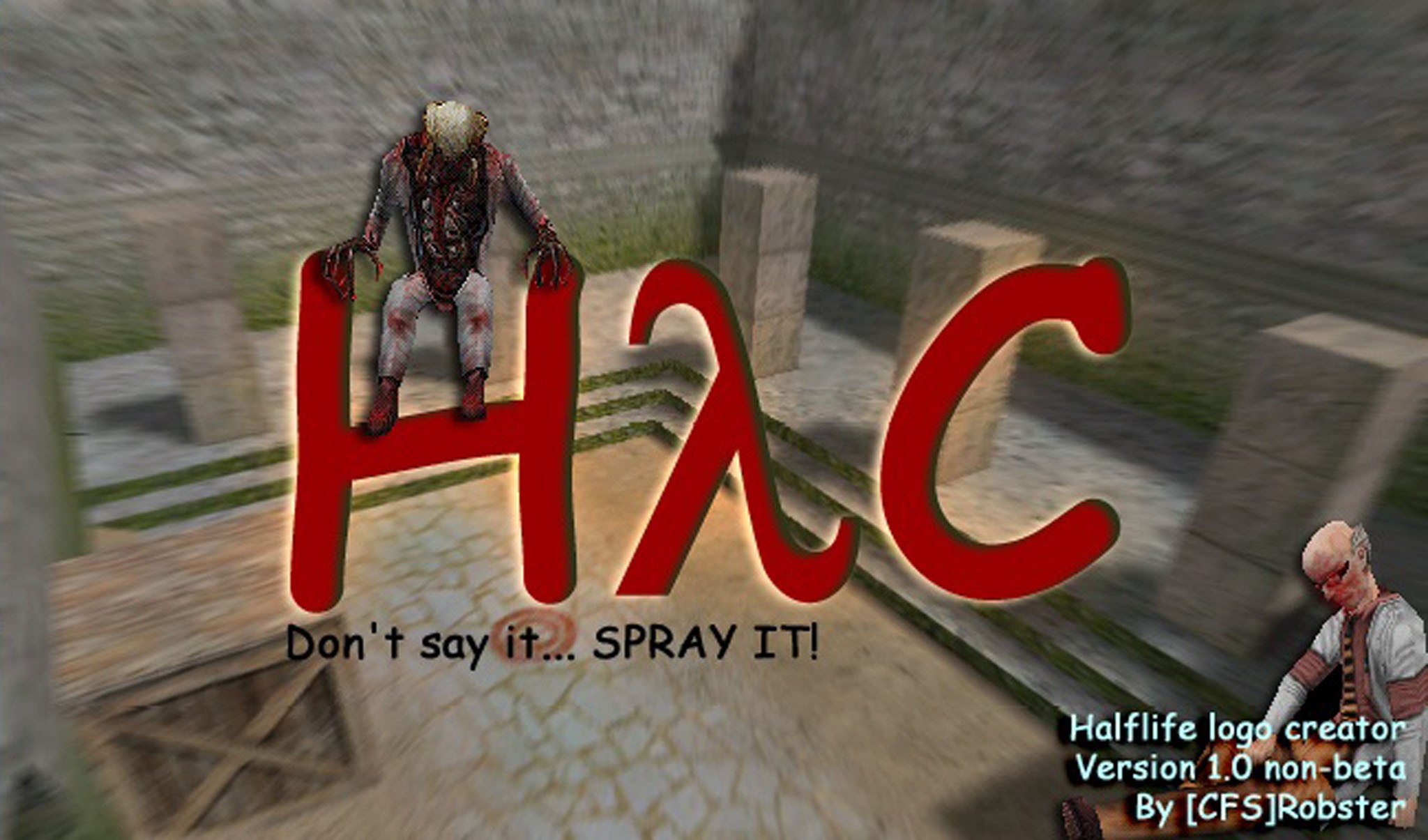 An intoduction to logos in Halflife
What are logos and how can I use them? Logo's are bitmaps (.bmp) that you can 'spray' on levels in halflife (and mods like tfc, cs etc.). When you spray a logo, all other players playing in that level can see it. Not so long ago, only bitmaps of 2 colors could be used (1 color + 1 transparat color), but recently, some smart people found out that also colored bitmaps could be used, though they had to meet certain requirements
The bitmap must be 255 colors, the 256th color must be pure blue (RGB 0 0 255, pixels with this color will be transparant in the game)
The width and height of the bitmap must be in increments of 16 pixels
The total ammount of pixels (width * height) must be less than 12288 pixels
If a bitmap does meet these requirements, it doesn't mean you can put it in the logo diretory in your halflife directory, because logos in halflife are in the WAD3 format. It has to be converted to WAD3 first! Valve has released a Texture SDK, containing two nice programs called 'makels.exe' and 'qlumpy.exe'. Makels.exe is used to make a script file, which qlumpy.exe needs for creating a WAD3 file from a bitmap. So in theory, it goes like this:
bitmap ==> makels.exe == > script script + bitmap == > qlumpy.exe == > WAD3 file containing the image from the bitmap
For advanced users, this is fairly easy. Both programs need a few commandline parameters, and they will abort automatically abort the process if the bitmap doesn't meet the above requirements. For normal users who don't understand how the programs work, who don't have the Halflife texture SDK or users who want do to logo creation the easy way, HLC is created.
HLC provides an easy way for logo creation, and has a couple of benefits:
No messing with scripts, and commandline programs like makels.exe and qlumpy.exe
Easy to use interface
Easy to understand error-messages if the bitmap doesn't meet the requirements
Image editing options like: sharpen, smooth, and (auto)resizing
Supports not only .bmp files but many more image file types!
Atomatically copies the logo to the proper directory
Advanced rezising methods
Saving of logos and bitmaps
Progress window, showing what HLC is doing
Extensive documentation
Using the Halflife Logo Creator
Welcome to the HLC users guide! This guide will guide you through logo creation step by step.
Step 1: Opening a picture Click the 'open' button, and the 'open image' dialog will appear
Select a picture and press 'open'. The picture will now be loaded into HLC
Step 2: Resizing the image To create a logo, your picture probably needs to be resized. because the logo has to meet certain requirements
Width * Height < 12288 Pixels
Width & Height must be divisible by 16
To let HLC automatically resize your picture, press the 'autosize' button. HLC will now automatically resize your picture to a valid size.
To resize your picture manually, specify a new width and a new height. Valid sizes can be selected from the comboboxes
The 'pixel' bar will turn red if the total pixel ammount (width * height) equals or exceeds 12288 pixels. If it's green, you're ready to go to the next step!
Image is too large: 240 * 80 = 19200 pixels
Image size is good: 144 * 80 = 11520 pixels
Note: If the image has valid sizes, and the pixelbar is green, you don't have to resize the image! Also, you can specify a 'resample filter' from the filters menu. If you don't know what resample filters do, leave it at 'Lanczos Filter'.
Step 3: Applying image transformations If you find that your image is too dark or is very unsharp, you can use the image transformation buttons at the left
Here's what each button does:
Sharpen: Increases the sharpness of your image. Smooth: Blurs the edges of your image. Brightness: Increases the brightness, which will result in a clearer image. Contrast: This increases or decreases the contrast of your image. Transparancy: Click this button to draw transparant areas on your image
Step 4: Selectig mods To tell HLC what mods for half-life you play, check the appropriate checkbox:
If you play a different mod than cs or tfc, please select the 'save it to' option and browse to your desired save directory.
Step 5: Making the WAD! This is the easy part: Press 'Make WAD' !

HLC will now use qlumpy.exe and make a WAD. It will automatically copy it into the appropriate directory for CounterStrike or Team Fortress Classic (if selected in step 4).
Step 6: Play and Spray! Start halflife or your desired MOD and play! Don't go to the customize menu to select your logo! IT WILL NOT APPEAR THERE! Actually, if you try to select your logo, it will be overwritten with the standard Halflife logo.